With more than 100 feature films of work experience, I am a producer specialized in post-production, procedural workflow design and visual effects. I managed projects and postproduction boutiques as a post and vfx producer, being in charge technically, artistically and commercially, ensuring fluid communication with clients and teams of artists.
.  Extensive experience with deep technical knowledge about post-production processes.
.  Responsible in charge of post-production boutiques, providing a wide spectrum of services.
.  Managed projects commercial, technical and artistically, with client management experience.
.  Strong planning and organizational skills. Schedule developer.
.  Good at optimizing work and developing of new improvements for the build up of the company,
.  Leadership, adept in managing teams and building structure.
.  Fast learner.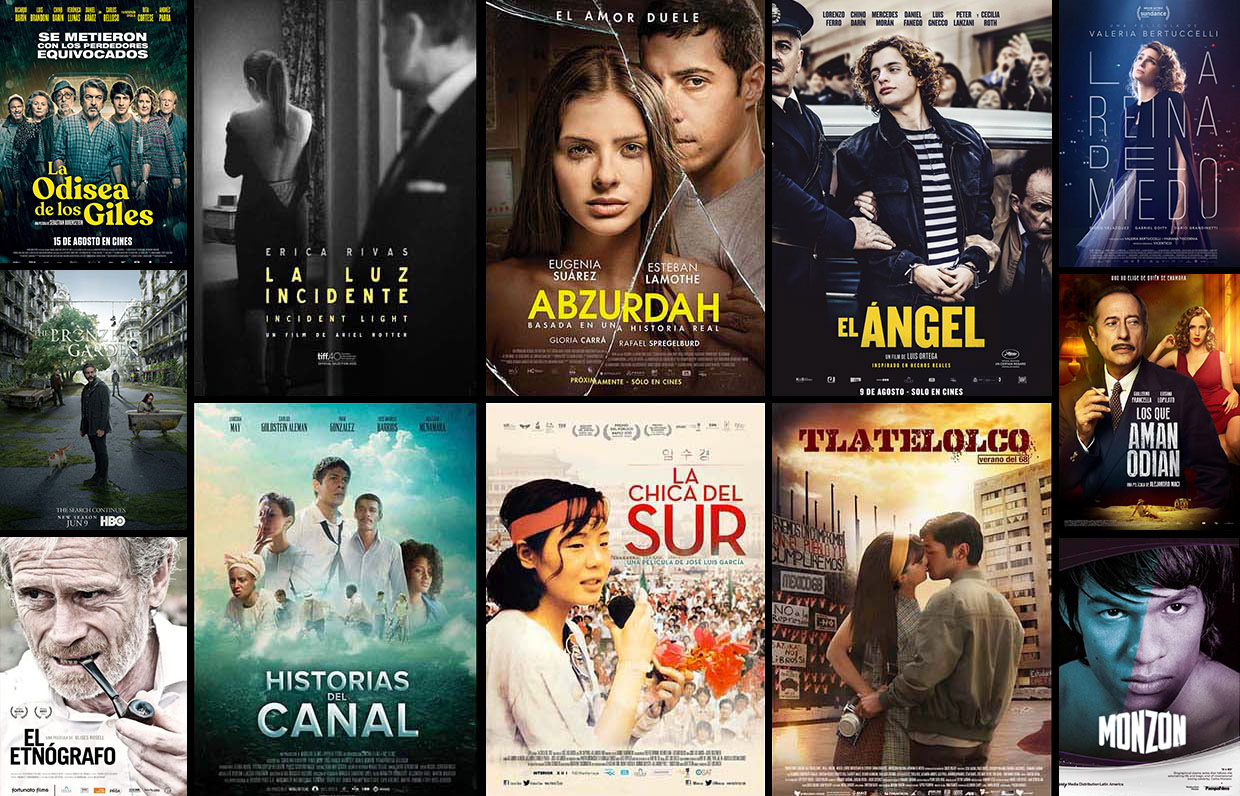 Feature Films I worked on since 2009, participating both in local as well as international projects
2019
102- El robo del siglo - VFX Producer
101- Todas Vuelven - VFX Sup. & Ex. Prod.
100- El diablo blanco - VFX Executive Production
99- La odisea de los giles - VFX Executive Production
98- Monzón - VFX Executive Production
97- The bronze garden, season 2 - VFX Sup. & Ex. Prod.
2018
96- Yo, mi mujer y mi mujer muerta @ España / Post Sup. 
95- Two One @ England / VFX & Post Sup.
94- Piazzolla / VFX Adicionales
93- El motoarrebatador / Post Sup.
92- Julia y el zorro / VFX Sup.
91- El Ángel / VFX Production Manager
2017
90- Vendrán lluvias suaves / VFX Producer
89- Unidad XV / VFX Supervisor
88- La Reina del miedo / VFX Supervisor
87- La Bonita / Postproduction support
86- Alias Yineth / Post Supervisor @ Colombia
85- Los que aman odian / VFX Supervisor
84- Food on the go / Post Supervisor
83- Plaza Paris (Alexa) / Post & VFX Supervisor @ BRASIL
82- Matar a jesus / Post & VFX Supervisor @ Colombia
81- Los Perros / VFX Comp. (additional vfx)
80- Corralón / VFX Comp.
79- Temporada de caza / VFX Supervisor
78- Respirar / Post & VFX Supervisor @ Uruguay
77- Zama / Title Design
2016
76- El Veneno de la Tierra / VFX Comp.
75- Cetáceos (F65) / Post & VFX Supervisor. VFX Comp.
74- Arpón (Varicam) / Post & VFX Supervisor. VFX Comp. Co-Producer
73- Otra historia del mundo (Red) / VFX Sup, VFX Editorial & Color Pipeline collab.
72- Resentimental (Arri Raw) / Post Supervisor
71- El hilo rojo (Alexa) / VFX Supervisor
70- The Milky Road (Alexa) / Sequence VFX Supervisor @ SERBIA
69- Como una novia sin sexo (Red) / VFX & Post supervisor
68- Miss (Alexa) / VFX & Post Supervisor
67- Caida del cielo (Varicam) / Post Supervisor
66- Mi último fracaso / Online Mastering
65- La larga noche (Epic) / Post supervisor
64- Una noche de amor (Alexa) / VFX Supervisor
63- Es hora de enamorarse / Post Supervisor @ PANAMA
62- Perros (Red Epic) / Post supervisor @ COLOMBIA
61- El Cheque / Postproduction services @ PANAMA
2015
60- Triada (Red One) / VFX + Post supervisor
59- Vigilia (Alexa) / VFX + Post supervisor
58- Tiempo Muerto (Arri Raw) / Post supervisor
57- Piray 18 / Post supervisor
56- Hijos Nuestros (Red Epic) / VFX + Post supervisor
55- Socios por accidente 2 (Red) / Post supervisor
54- La luz incidente (Alexa) / VFX + Post supervisor
53- Resurrección (Red) / Consulting + Post supervisor
52- Abzurdah (Alexa) / VFX + Post supervisor
2014
51- Carga Sellada (Red) @Bolivia / VFX & Post Supervisor
50- El Desafio (Alexa + Red) / VFX & Post supervisor
49- El clan (Alexa XT) / Digital lab supervisor
48- Mariposa (F65) / Post supervisor
47- Hijos Nuestros (Red) / VFX Supervisor
46- 100 año de perdón (Alexa)  / Digital lab supervisor
45- Héroe (F55) @Uruguay / Post coordinator
44- Preso @Uruguay / Post Supervisor
43- Lulu / Postproduction & VFX Supervisor
42- Historias del canal (Arri Raw) @Panamá / Post supervisor
41- No soy Lorena (Red MX) @Chile / Post & VFX supervisor
40- Al centro de la tierra (Red One) / Post & VFX supervisor
39- Socios por accidente (F3 KiPro) / Post supervisor
38- Invasión (BMDCC Raw) @Panamá / Post supervisor + VFX
37- El color que cayó del cielo (HD) / Post supervisor
2013
36- Olvidados @México / Postproduction supervisor
35- El verano siguiente (HD) / Postproduction supervisor
34- Tierra Abrasada (HD) / Postproduction supervisor
33- Los Nadies (Red One) / Postproduction Coordinator
32- La Carcel del Fin del Mundo (HD) / Postproduction Supervisor
31- Los Quiero a Todos (Viper) / Output Mastering
30- Amor, plástico e barulho (HD) @Brazil / VFX & Postproduction Supervisor
29- The Rise of Hope (HD DOCU) / Postproduction Supervisor
28- Erotika (16mm) @México / VFX & Postproduction Supervisor
27- ECDUHS (16mm) / Output Mastering
26- Vidrios (DSLR) / Output Mastering
24- El otro maradona (HD DOCU) / VFX & Postproduction Supervisor
24- Paternoster (HD) VFX Supervisor & Postproduction Coordinator
23- El Gran Circo Pobre de Timoteo (HD DOCU) @Chile / VFX & Postproduction Coordinator

2012
22- Tlatelolco (S16mm) @México / VFX Supervisor
21- The Corporation (F3) / Postproduction Coordination
20- Tuesday to Tuesday (ALEXA) / Postproduction Coordination
19- Romper el Huevo (HD) / Postproduction Coordination
18- The Ethnographer (DSLR DOCU) / VFX & Post Coordination
17- La chica del sur (HD DOCU) / VFX & Post Coordination
2011
16- Papirosen (DSLR DOCU) / Digital Treatment (freelance work)
15- Cassandra (DSLR) / VFX & Post Coordination
xx- Dulce de Leche (HD) / Postproduction Supervisor
2010
14- Penumbra (RED) / Post Coordination, Online Assistant, VFX Collab.
13- Uno (HD) / VFX
12- La Mala Verdad (HD) / VFX
11- Rehen de ilusiones (HD) / VFX
10- Desbordar (HD) / Motion Graphics
9- Maids & Bosses (RED DOCU) @Panamá / VFX
8- Pájaros Volando (RED) / Online Assistant
7- Un Amor de Película (RED) / Online Assistant
6- Quién dijo miedo? (DOCU) @Honduras / Online Assistant
5- 25 miradas - Segments "Chasqui", "La Voz", "Hija del sol" / postproduction services
4- Hoy como ayer (HD) @Netherlands / Digital Treatment (freelance work)
2009
3- Secuestro y muerte (Si2K) / Online Assistant
2- El recuento de los daños (RED) / VFX & Conform Assistant
1- La vieja de atrás (Si2K) / Online Assistant
# AS EDITOR
# TRAILERS
8. Ojalá vivas tiempos interesantes / Sudestada
7. Maldito Seas Waterfall (Teasers) / Sudestada
6. Pinamar / Sudestada
5. Arpón / Aramos @Arg+Venezuela
4. La Corporación / Buffalo
3. The Bad Intentions @Peru (Promo Trailer for film distributors forum in LA) 
2. Un Amor de Película
1. Tres Deseos
# COMMERCIALS
10. Claro Roaming / Oruga*
9. Copa BBVA Talleres vs Belgrano / Mono Loco / Dir: Sebastián Sorin*
8. ARRI AMIRA - Pre Production Unit Demo Argentina*
7. PCBOX "El loco de la oficina" / El Almacén / Dir: Ariel Winograd*
6. Quilmes "Camisetas" / Primo (Suplencia A. Hoijman)
5. Renault "GT Fluence" / Primo (Suplencia A. Hoijman)
4. Tigo @Tanzania "Dynamic" / Supermarket*
3. Tigo @Tanzania "Xtreme Pack" / Supermarket*
2. La Rural en 3D (S3D, stereoscopic video) 
1. Huggies "A prueba de nosotros los papás" / Camilo Ad hoc*
# FEATURE FILMS
• 2016 - Diamantis (FTR DSLR). Dir: Eloy Gonzalez (Montaje adicional)
# SHORT FILMS
4. Historias Breves: Superficies (Dir: Martin Aliaga)
3. Historias Breves: Crónica de la muerte de Paco Uribe (Dir: Santiago Canel)
2. Bicentenario 25 miradas / 200 años: Hija del Sol (Dir: Pablo Fendrik)
1. Estruendo (Dir: Ignacio Ragone) (tesis enerc)
*Also post supervisor /// ** Also motion grapher
# AS COLOR GRADING
2016 - Tiempo de sequía / Historias Breve's segment
2016 - Copa BBVA Talleres vs Belgrano (Dir: Sebastián Sorin) // #COMMERCIAL
2016 - Smile at Me de Natalio Pagés (Dir: Archivo Rutemberg) // #Videoclip
2014 - Videojuegos / Historias Breves's segment (Dir: Cecilia Kang)
2013 - Marwik // #Videoclip
2013 - Mañana / Shortfilm
2013 - Madison / Shortfilm
2012 - COR / experimental (Dir: Ivan Vescovo)
2011 - Estruendo (ENERC Tesis)
2011 - El Norte / Shortfilm
2009 - La despedida de Tony Figueras / VFX + CC
2008 - Ficción Oculta / Digital Treatment + CC