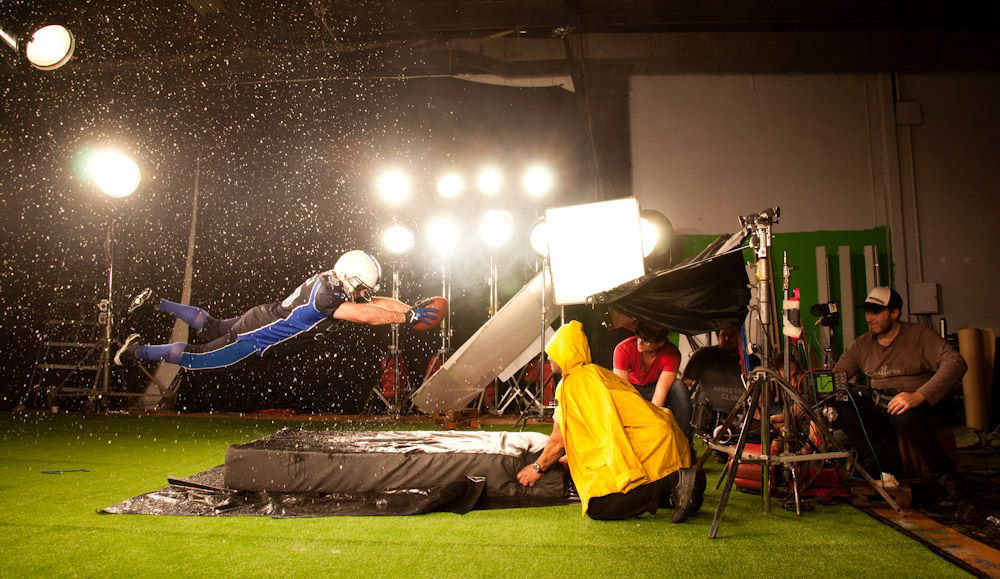 Tras el antecedente de lanzamiento de campaña de Fox Life 2013, en el 2014 realizamos este trabajo de postproducción para Fox Sports y Fox FX en conjunto con la productora local NETO Films y el estudio de postproducción SINSISTEMA.
   El trabajo se basó en el diseño de VFX y la realización de 16 piezas audiovisuales que contenían la siguiente dificultad: "La marca anunciante no estaría definida hasta tener la pieza terminada" por lo que debería grabarse todos los comerciales con la posibilidad de poder posteriormente reemplazar el isologotipo del anunciante de manera automatizada y en perfecta integración con la iluminación, movimiento y tridimensionalidad de la escena. La marca aparece -en promedio- tres veces por pieza y además algunos planos fueron compuestos íntegramente en postproducción. Se realizaron aproximadamente un total de 40 planos de VFX.
   Para que ellos sea posible de manera eficaz, diseñamos un método de grabación, un método de postproducción y un método de organización del material. 
   El cliente recibió, además de previsualizaciones de los videos terminados y ejemplos de logo aplicado, cada video con una estructura de carpetas y proyecto predefinido con el cual pudiera reemplazar la marca de cada video por el anunciante correspondiente y así poder exportar el comercial con todo el trabajo de VFX, Color Grading, Motion graphics y sonido aplicado y terminado.
Debajo encontrarán dos de los 16 comerciales terminados y algunos breakdown vfx de ejemplo. 
After the precedent of launching a similar Fox Life 2013 campaign, in 2014 we conducted this post-production work for Fox Sports and Fox FX in conjunction with local producer NETO Films and postproduction studio SINSISTEMA.
The work was based on VFX design and production of 16 audiovisual pieces containing the following difficulty: "The brand advertiser would not be defined until we have the finished piece". So we had to record all commercials with the possibility to replace later the advertiser's logotype in automated way and seamless integration with lighting, movement and three-dimensional scene. The "brandhere" place is, on average, three times per piece plus some additional takes that were made entirely in postproduction. Approximately a total of 40 takes were performed VFX.
We designed a recording, a postproduction and a media management method to make it possible.
So the client received (plus previews of finished videos and examples of applied logo) each video with a predefined folder structure and project which they could replace the brand of each video in easiest way, so they can export the commercial with all the VFX work, Color Grading, motion graphics and sound, all completed and fastly.
Below you will find two of the sixteen commercials and a few breakdown vfx examples.
Production company: Neto Films
Director: Andrés Arbit
Productor: Damián Fain
Postproduction Studio: Sinsistema.tv
Post Supervisor: Bruno Fauceglia
Colorist: Rodrigo Silvestri
VFX Compositors: Sergio Azpeitia + Pablo E. Herrera + Martin Kowal
Post Assistant: Nicolás Toler
Editor: Ezequiel Yoffe
Coordination: Alina Couto

Bruno Fauceglia - Post production Supervisor - Sinsistema.tv